BUSAN : Creative Cities of Film
Busan – UNESCO Creative Cities of Film
After the first UNESCO Creative Cities of Film, Bradford, UK in 2009, Busan became the first UNESCO Creative Cities of Film in Asia in 2014. With its long history of film, Busan became City of Film because of its Film Culture, Film Industry, and Film Education. Now Busan is major city of film in Asia.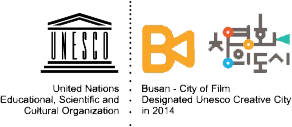 1) Center of Korean Film Policy: Centum City, Busan
There are many film and audio-visual institutions gathered together in Centum City, Haeundae-gu. In Centum City, Haeundae-gu, various film and video institutions are gathered. Among them, various films are screened 365 days a year at the 'Busan Cinema Center', the best media center in Korea, and many film festivals are held every year.
- Institutions related to film and video in Busan
Korean Film Council (KOFIC), Busan Film Commission (BFC), Korean Academy of Film Arts (KAFA), Busan Asian Film School (AFIS), Korea Media Rating Board (KMRB), Busan Cinema Center, Busan Cinema studios, Busan Viewers Media Center, Busan Sound Station, Busan Museum of Movies, etc.
2) Busan - Best Movie Location
Busan has established itself as a filming mecca as a filming location for several Korean films that have surpassed 10 million viewers and Hollywood films such as (2018).

(2001), (2009), (2012), (2013), (2013), (2014), (2015), (2015), (2017), (2018), etc. A number of movies and dramas were filmed in Busan.